In the core of Toronto, squeezed into the area bounded by Yonge, Bloor, Bedford and Davenport, Yorkville is truly the high end commercial and cultural heart of the city. Far from its roots as the bohemian nest of bars and coffee houses that spawned the likes of Neil Young, Joni Mitchell, Gordon Lightfoot and an endless parade of bad poetry in the 60s, Yorkville is today the closest thing to Manhattan that you'll get in Canada, where 7 or 8-figure price tag condos compete for space with galleries, museums, Ferrari dealerships, 5-star hotels and plenty of luxury retail.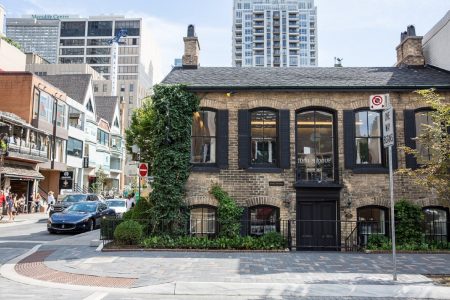 Historic Buildings along Yorkville Ave
Detached homes for residential use are pretty rare (one every month or two), and are typical late 1800s Victorian; when they do become available they command a world-class price. Condos are still being built on infill lots and here we have a wide variety of sizes and prices, from small studios at a bargain-basement ~$500K all the way up to the larger if-you-need-to-ask territory.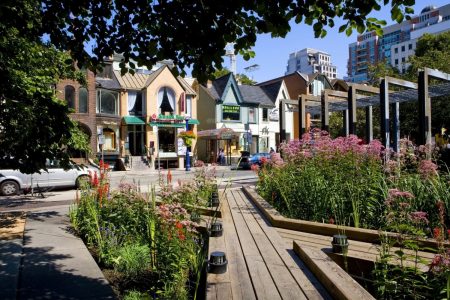 Village of Yorkville Park
The mix of residents here is exactly what you'd expect from a pricey, space-at-a-premium neighbourhood with world-class city characteristics. From younger, monied singles in smaller condos, to monied DINK professional couples who work out of the country as much as in, to monied downsizing seniors from Rosedale and perhaps a (monied, obvs) Raptor or celebrity actor or two. It's definitely not a cheap place to buy or live, but if you can afford it, the benefits of the location and the amenities are fabulous.
One of the few hoods in Toronto with a perfect 100 Walk Score, Yorkville is blessed with convenient transit options as it sits on top of the busiest subway junction in the country at Yonge/Bloor. Not that you need to actually go anywhere, as practically everything you might want is within an easy walk, including the University of Toronto, the Legislature and the CBD. In fact, parking is at a premium in Yorkville, and car-free living is probably easier here than any other part of the city.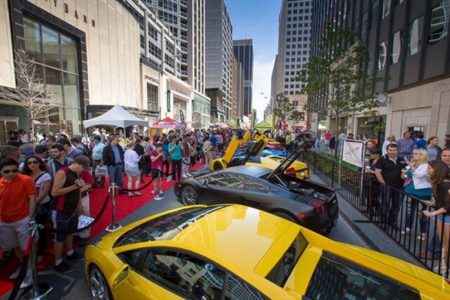 Annual Yorkville Exotic Car Show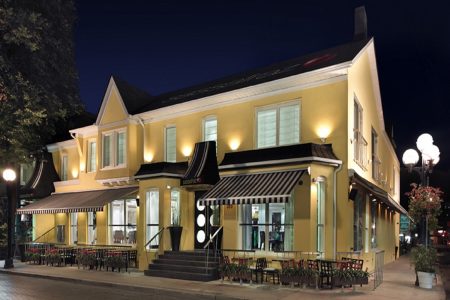 Yorkville is Toronto's international shopping Mecca, with Bloor Street's "Mink Mile" hosting the Luxury Lineup of Gucci, Prada, Rolex, Burberry and Louis Vuitton etc. you would expect. Scollard and Hazelton streets sport some of Canada's most exclusive art galleries, and Avenue Road (not a typo) boasts a large Whole Foods (of course) and a strip of independent, upscale European fashion retail.
From The Four Seasons to The Windsor Arms to the Park Hyatt, you'll also find some of Canada's most luxurious hotels and spas within a few minutes' walk. This, of course, leads to great people watching as there is never any shortage of tourists and conference attendees wandering around the place. In the summertime, the patios are teeming with cocktail imbibers looking out over gleaming Aston Martins, from institutions like Hemingway's and Sotto Sotto to the latest fusion flavour-of-the-month.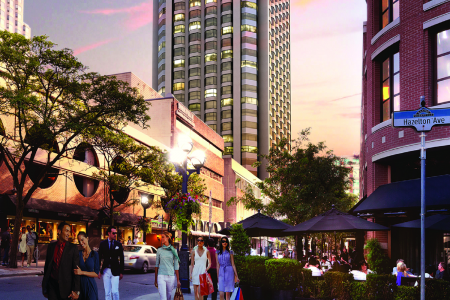 Sunset views beside The Hazelton Hotel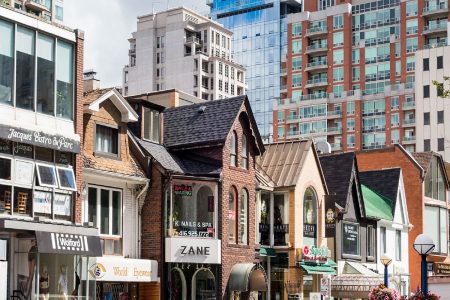 Iconic Yorkville shops along Cumberland St.
Our specialist for Yorkville, Diana Mendonca, spends a lot of time in Yorkville and enjoys the busy vibe of the cafes, the park, the microbrew pubs and some fabulous homemade ice cream to be found on Yorkville.
If you can afford it, and are looking for a neighbourhood that is close to every amenity, and don't mind the traffic and crowds that come with museums, world-class shopping, hotels and dining, Yorkville might be right for you.  Email or call Diana ([email protected]/647 926 4368) for all the current listings we have. There are some seriously fabulous ones.