Situated at the western end of the downtown (just above the CNE Exhibition Grounds) and squeezed in between Little Italy and Liberty Village, Trinity-Bellwoods is a busy, vibrant neighbourhood that has at its heart the 32-acre namesake park that acts as the social and recreational hub of the community.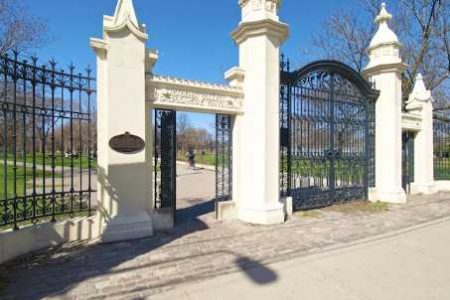 Trinity Bellwoods Park Entrance.
Complete with playgrounds, tennis courts, a baseball diamond, a rec centre with an indoor pool, plenty of park benches and huge, century old trees, it provides (in summer at least) a cool, green, quiet respite from the teeming throngs that crowd the hot sidewalks of Queen, Ossington and Dundas streets.
Housing in this part of town is the classic Toronto Victorian red brick detached, semi and row housing on the ubiquitous 25' X 125' lot, with a few 'grand old houses' thrown in on larger lots on some of the wider thoroughfares like Shaw or Dovercourt. These latter have largely been divided up into multiple apartment dwellings, but some remain as stately single family homes.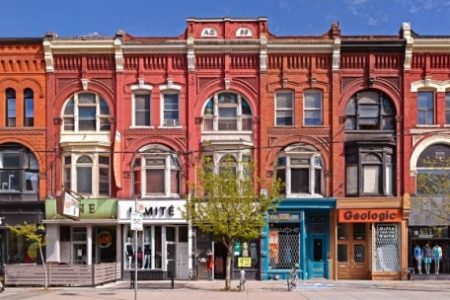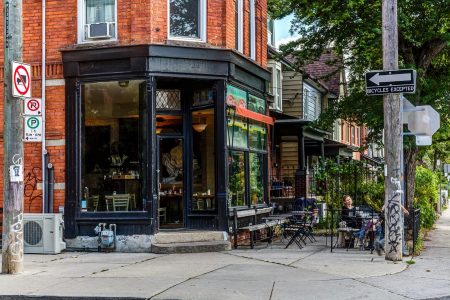 Some low rise condo/towns are creeping in on infill lots, and some of Toronto's earliest true loft conversions (Candy Factory, Chocolate Factory) are here and remain in high demand. As one might expect from such a diverse housing stock, the residents of TrinBell show a wide diversity as well. From recent Chinese immigrants to old-school Portuguese families that have been here since the 60s to young urban couples who like the busy proximity to downtown to hard core hipsters – you'll find it all here.
The main thoroughfares of Queen and Dundas provide a huge array of independent shops with few large chain stores making an appearance. Clothing boutiques, coffee shops, bookstores, bars and restaurants – you name it and you'll find it somewhere. Cloistered in between these busy mains are the quiet residential streets, many of them 1-way to deter any kind of through traffic.
There are great schools public and private, a top Walk Score and proximity to 24-hr transit options, so not owning a car is totally viable here. For those who do drive, it's a pretty quick trip down Strachan Ave or Dufferin to get Lakeshore or Gardiner access.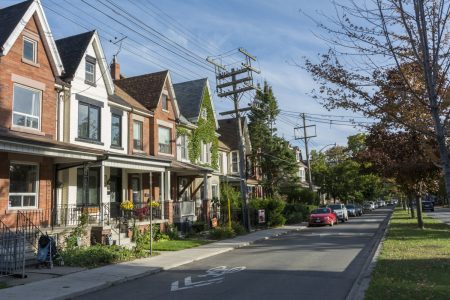 Quiet residential streets are prominent.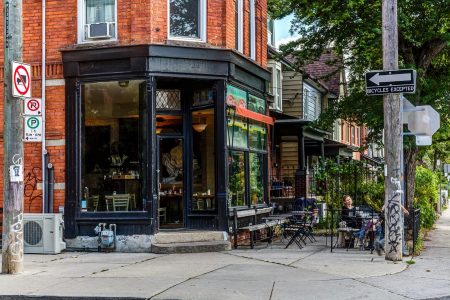 Boutique shops and restaurants are found everywhere.
The Ossington strip from Queen to Dundas has, in recent years, become one of the city's hottest restaurant destinations, with many options both fine and casual. So many in fact, that there is a hold on any more liquor licenses! This does bring a certain amount of late night traffic and crowds, but it's nowhere near as rowdy (or young) as the Entertainment District on Adelaide or Richmond.
As with any downtown neighbourhood, demand and prices are on the high side, with properties selling rapidly. Recent data shows average price is ~$1.3M (with the larger homes on big lots going for 3 or 4 times that!), with a days-on-market average of only 15. The smaller quantity of condos sell even more quickly, often within days of listing.
Our TrinBell specialist, Diana Mendonca, spends a lot of time in TrinBell and enjoys the busy vibe of the cafes, the park, the micro brew pubs and some fabulous homemade ice cream to be found on Ossington!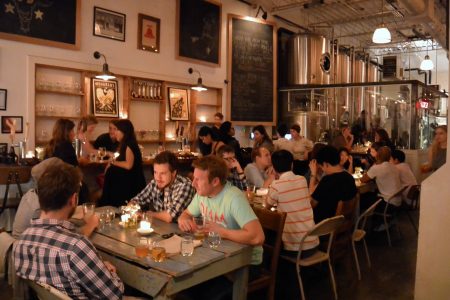 34 Claremont St #201.  Sold by Andrew Ipekian Real Estate Group
If you don't mind all the hipsters and are willing to trade a bit of busy, crowded noise and pace for a location that is close to every major downtown attraction (and only a 20 minute streetcar ride to the business core), TrinBell could be the right 'hood for you.  Email or call Diana ([email protected]/647 926 4368) for all the current listings we have. There are some fabulous ones.
PS – if you've heard something about the albino squirrels, that's not the latest neighbourhood indy band (well, not that we've heard yet) – there actually have been white squirrel sightings around the park!